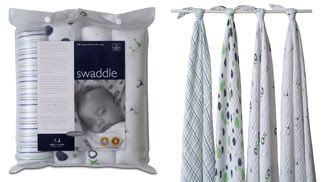 The Australian muslin swaddling blankets from
aden + anais
are amazing. These blankets are woven from soft natural muslin fibers that are light weight and allows air to easily flow through them; therefore, you can swaddle your little one with this blanket and know that they will not overheat. In fact, these blankets will help your infant regulate his / her body temperature - great for summer or winter! When I swaddle my little one with a standard receiving blanket, she wakes up from naps soaked in sweat. When I wrap her in the muslin wraps, she wakes up perfectly warm and natural.




I love the fact that
aden + anais
purposefully created these muslin wraps at 47" by 47". If you purchase a normal flannel receiving blanket and try to swaddle your baby, they usually just kick right out of them because they are so small. My daughter can get out of one within seconds. When I swaddle her in one of
aden + anais's
muslin blankets, she can't move!



Not only are the muslin blankets great for swaddling infants, but they can also be used as a stroller cover to protect from the sun and / or insects, as a nursing cover, as an outside blanket, a toddler blanket, a tummy-time mat, a burp cloth, a changing pad cover, or a play pen blanket. These muslin blankets are so versatile that it is like you are buying multiple blankets in one! At $44.00 for four muslin wraps, you are definitely getting a great deal.



aden + anais
also produces soft muslin wash cloths, muslin sleeping bags, and 100 % GOTS certified organic swaddling wraps. You can rest assured that the products from
aden + anais
are all natural. Both the organic and non-organic products have the formalin taken out of the packing, plus they use color safe dyes.
I also want to highlight that the muslin blankets are packaged in water-resistant bags that can be reused for other uses!



So, for the perfect versatile muslin blanket, go to
www.adenandanais.com
!